Table of Standard Bolt Torque Settings
Below is a useful chart to help identify the bolt torque settings you need.
When it is time to install your new final drive, it is important to refer to this table to ensure correct tightening of your mounting hardware.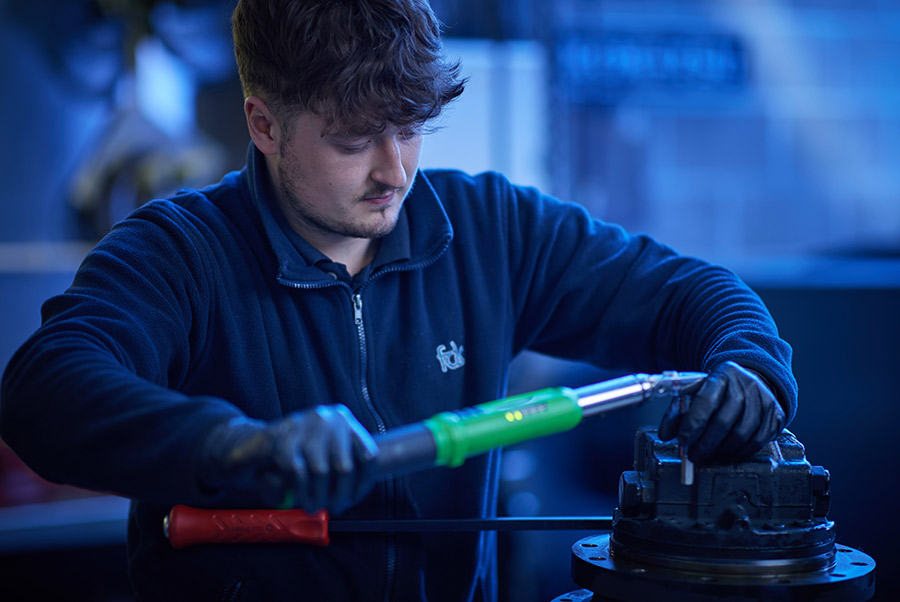 For further guidance, contact the Plant Parts team member you purchased your final drive from.
kN = Axial Load in kiloNewtons   Nm = Torque Setting in Newton Metres
Bolt Spec.
4.8
5.8
8.8
10.9
12.9
Dia x Pitch mm
kN
Nm
kN
Nm
kN
Nm
kN
Nm
kN
Nm
3 x 0.5
1.2
0.9
1.5
1.1
2.3
1.8
3.4
2.6
4.0
3.0
4 x 0.7
2.1
1.6
2.7
2.0
4.1
3.1
6.0
4.5
7.0
5.3
5 x 0.8
3.5
3.2
4.4
4.0
6.7
6.1
9.8
8.9
11.5
10.4
6 x 1
4.9
5.5
6.1
6.8
9.4
10.4
13.8
15.3
16.1
17.9
7 x 1
7.3
9.3
9.0
11.5
13.7
17.2
20.2
25
23.6
30
8 x 1
9.9
14.5
12.2
18.0
18.9
27
28
40
32
47
9 x 1.25
9.3
13.6
11.5
16.8
17.2
25
25
37
30
44
10 x 1.25
15.8
28.0
19.5
35
30
53
43
78
51
91
10 x 1.5
14.5
26.6
18
33
27
50
40
73
47
86
12 x 1.25
23.8
50
29
62
45
95
65
139
77
163
12 x 1.75
21.3
46
26
56
40
86
50
127
69
148
14 x 1.5
32
79
40
96
61
150
90
220
105
257
14 x 2
29
73
36
90
55
137
80
201
94
135
16 x 1.5
43
121
54
150
82
229
121
336
141
393
16 x 2
40
113
50
141
76
214
111
314
130
369
18 x 1.5
57
178
70
220
110
345
157
491
184
575
18 x 2.5
49
157
60
194
95
306
135
435
158
509
20 x 1.5
72
248
89
307
140
482
199
687
233
804
20 x 2.5
63
222
77
275
122
432
173
615
203
719
22 x 1.5
88
337
109
416
172
654
245
932
266
1090
22 x 2.5
78
305
97
376
152
502
216
843
253
987
24 x 2
101
420
125
519
196
814
280
1160
237
1360
24 x 3
90
383
112
474
175
744
250
1080
292
1240
27 x 2
131
615
162
760
225
1200
363
1700
425
1990
27 x 3
119
568
147
703
230
1100
328
1570
384
1840
30 x 2
165
850
204
1060
321
1670
457
2370
535
2380
30 x 3.5
144
772
178
995
280
1500
300
2130
467
2500
Search for spares using our parts finder
Comments are closed